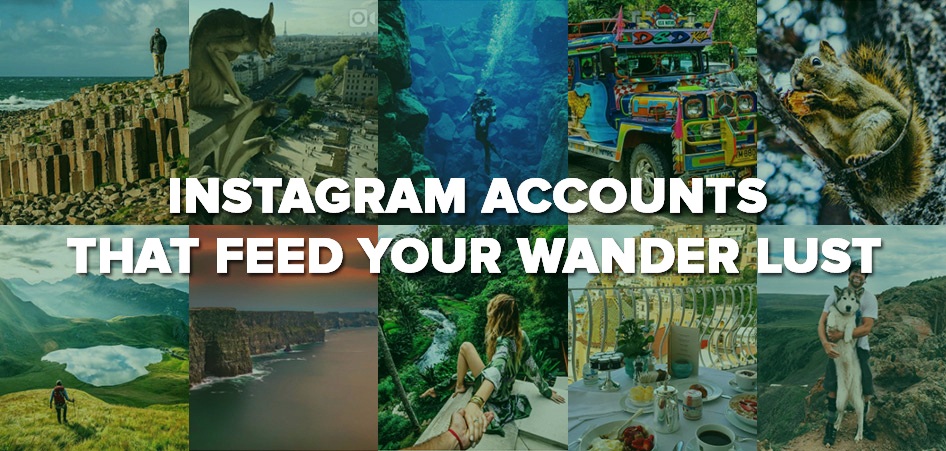 A picture, a thousand words, an eternal inspiration
One could research as much as possible, and yet, a considerable force that compels a traveller to embark on their next journey, remains with the pictures. And if a picture is worth a thousand words, then these Instagram accounts of travellers are novels in themselves. When you can get a piece of the world on the screen in your hand, then you must not miss out on the best one. We bring you a list of best travel Instagram accounts to follow, that will give you that much needed nudge to topple off the edge of your routine and make that escapade.
Lee Abbamonte @leeabbamonte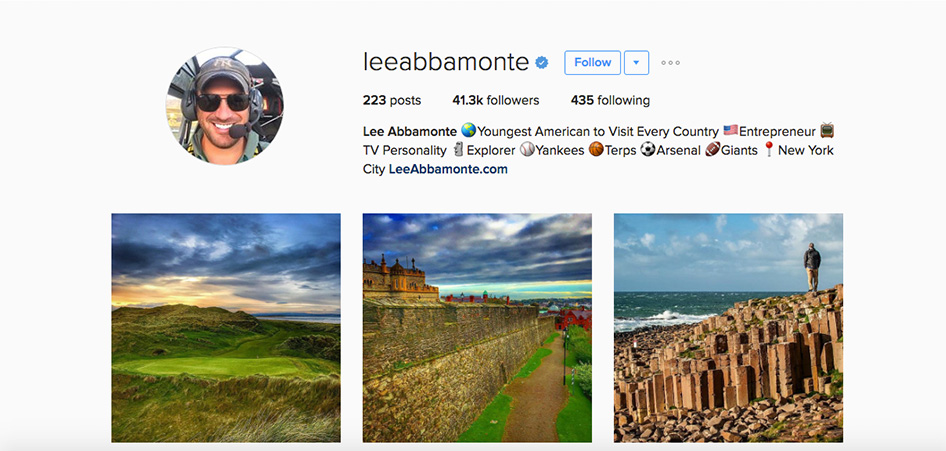 From working at the Wall Street, to treading the streets of 93 United Nations sovereign nations, Lee Abbamonte is the youngest American to have travelled to all 193 UN member states; 318 total countries (yes, that's the entire planet). This enormous variety showcased on his account renders it one of the best ones to follow. Scroll through his account and you'll see every landscape: from lush greens to absolute white, gushing waters to ice carvings, modernism of Dubai to ancient Taormina in Sicily and so on. The hanging pandas, stroking cheetahs, strolling penguins and brown bears in the wild... it showcases a fair share of wildlife too. Colours and contrasts come alive on his account; pick where you'd want to go next! Now that he's trod through the entire planet, what is his next destination going to be? Maybe, we'll see visuals of the moon or space on his account next.
Kirsten Alana @kirstenalana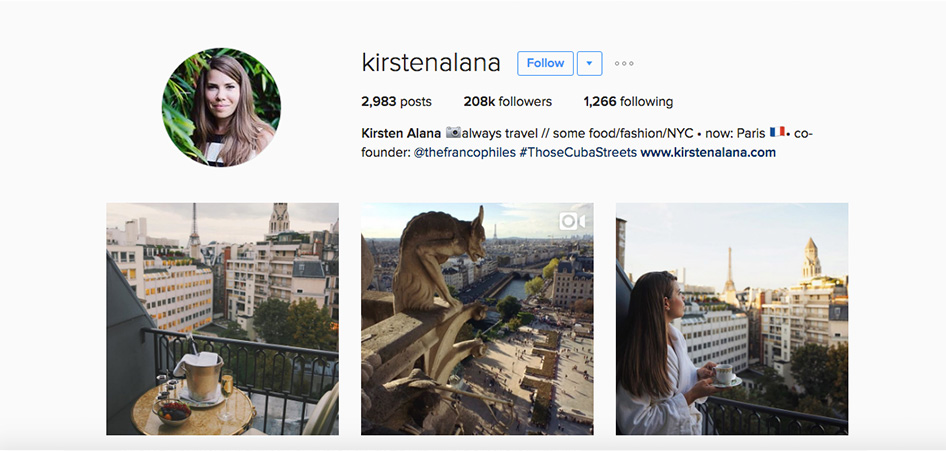 For Kirsten, a picture is not worth a thousand words. Each picture is followed by an elaborate story that's perfect to help you relive the moment. A picture of a table full of food would not only make you drool, but the caption beneath offers all that you need to know about every detail and history of all that your eye feast upon. Moreover, her account showcases an unmatched variety; you'll find food, landscapes, wall art, architecture, people and a number of facets of a given place. This isn't just another travel account; it is a series of graphic stories.
World Of Wanderlust @worldwanderlust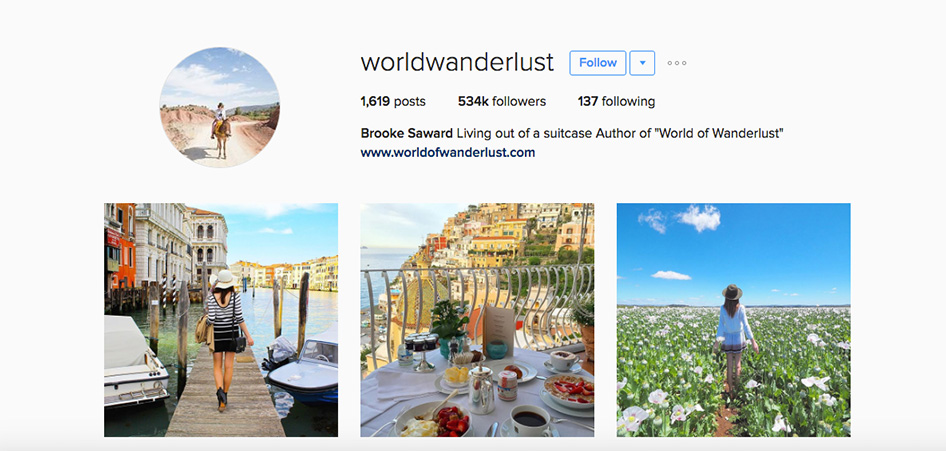 Brooke Saward's serious case of wanderlust ensures travel through our phones possible. The melting gelato in Italy will make your mouth water; the vivid architecture of Moscow's will leave you bewildered; a countryside shot would make you sigh and lastly, the pictures of all the friends she's made on the way will warm your heart. Her gallery, showcasing the nooks-and-crannies of the world, is so delightful; you'll never be content by picking a single destination for your holiday.
Chris Burkard @chrisburkard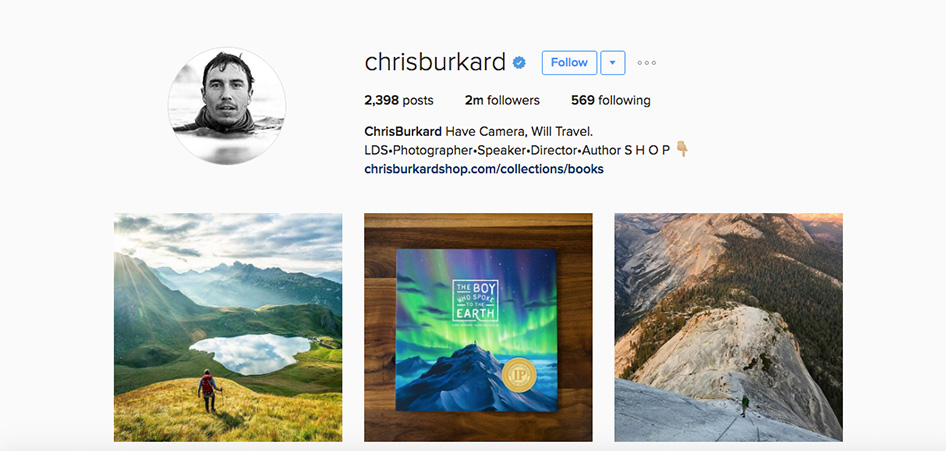 This one's a ticket to all your Instagram travel adventure. Scroll down to a series of cliffs, waves, a sky lit with aurora borealis, mountains of national parks and people jumping off, riding, marvelling and trekking there. If the snow, water, mountains and valleys take your breath away, people indulging in adventure there will make you gasp. It's dope for adventure junkies and the closest look of how it can be, for those who will never be there. Definitely one of the best Instagram accounts!
Everything Everywhere @everythingeverywhere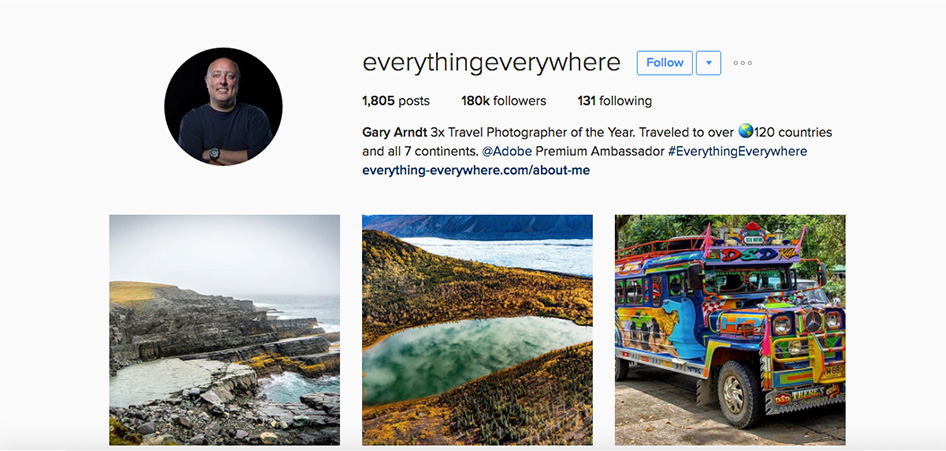 From the man-made marvel—The Eiffel Tower, to the natural beauty of Alaskan Glaciers, to the train curving through lush greens, to grizzly bears' leaping in fight, to the conspicuous bridge in Bosnia, to ten end-to-end rainbow at Victoria Falls... the name Everything Everywhere truly captures the essence of Gary Arndt's award winning gallery. He's travelled to 120 countries to bring awe-inspiring tales of both man and nature. Sprinkled with maps and post-its, you'll also find some very valuable travel advice. A must-follow Instagram, which will feed you with inspiration and help you chalk out your travel plan to the T.
The Planet D @theplanetd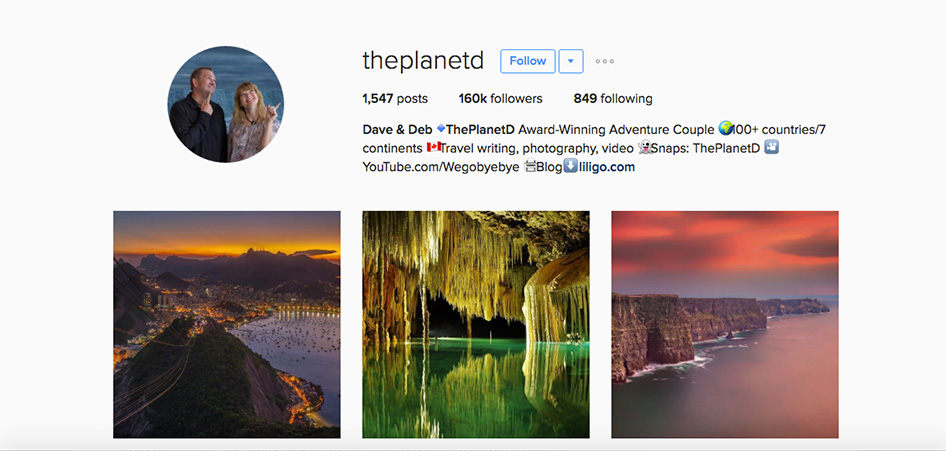 People leaving their desk jobs to travel, is not unheard of. But in doing so, getting named a top Instagram by USA Today, Yahoo! Travel, Forbes and others, is definitely not an everyday story. Then again, adventure junkies combing the face of the earth is understandable, but not being athletic or adventure junkies and yet, becoming an award-winning adventure couple is some serious inspiration. Their motto is 'Adventure is for everyone' but their captures also talk of art, architecture, wildlife, and more. This makes for one of the best travel Instagram accounts, that will fill you with courage to jump off a cliff…or at least make that next trip.
Loki The Wolfdog @loki_the_wolfdog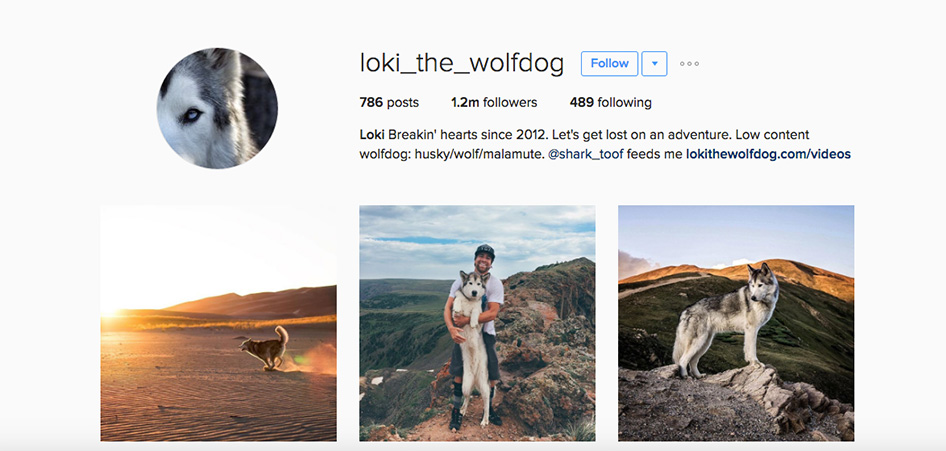 There are those who take their pets out, by the road, for a walk. And then there are those who promise their pet an adventure in the wild…for their exercise of course! Kelly Lund, the owner of Loki (hybrid of a Siberian husky, Malamute and Arctic Wolf), embarks on eternal adventure to give his pet a life that a wolf-dog deserves. His account has the most thrilling shots and videos of Loki by the sea, ready to leap into the woods, on the edge at a scary height in I-70 Utah, running down snow slopes and calling it a day in a hammock in the woods. It provides a plethora of inspiration for those pet owners and animal lovers.
Murad Osmann @muradosmann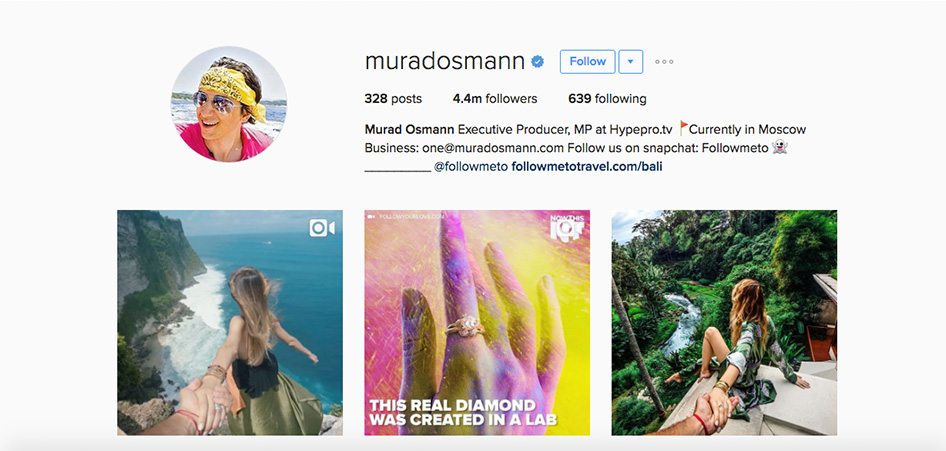 One of the most famous travel Instagram accounts, Murad Osman's account doesn't just inspire travellers around the world, but also has them copying his signature style of his wife pulling him along as he takes a picture. It's an account that fabulously blends fashion and destinations. Shots of Natalia Zakharova dressed in local fashion with her arm stretched behind her, at a destination makes for a strikingly engaging visual. Featured in 'Harper's Bazaar Bride India' in 2015, he rose to fame and viewing the world through his lens is a delight for travellers and fashionistas alike.
The Blonde Abroad @theblondeabroad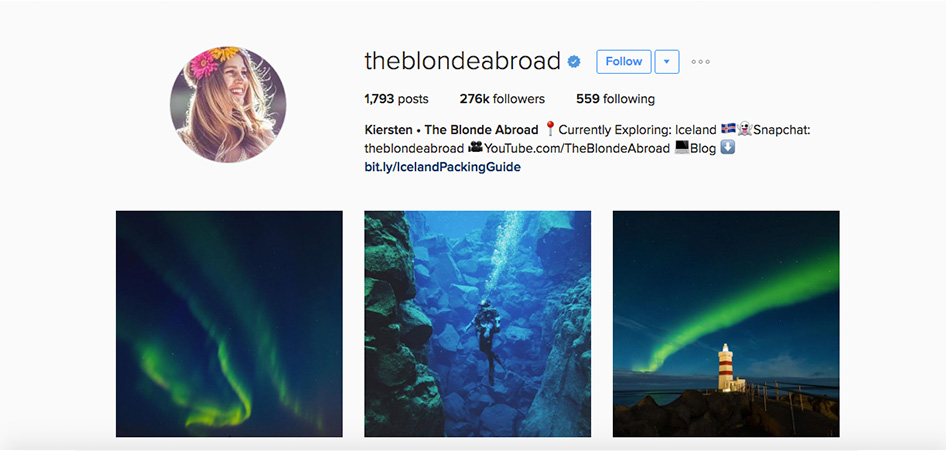 Kiersten Rich's Instagram handle spells luxury and style. With her on a beach, breeze in her hair, a drink in her hand, sun-kissed and wave lapped, her account has a very happy vibe about it. Her's is a classic story of a woman quitting a high-flying finance job to travel full time, and has resulted in 271k people following her on her trips (on Instagram of course). From atop snow-clad slopes, to diving into deep blues, she mixes up adventure, culture, style, luxury, and landscape on her handle.
Carmen Huter @carmenhuter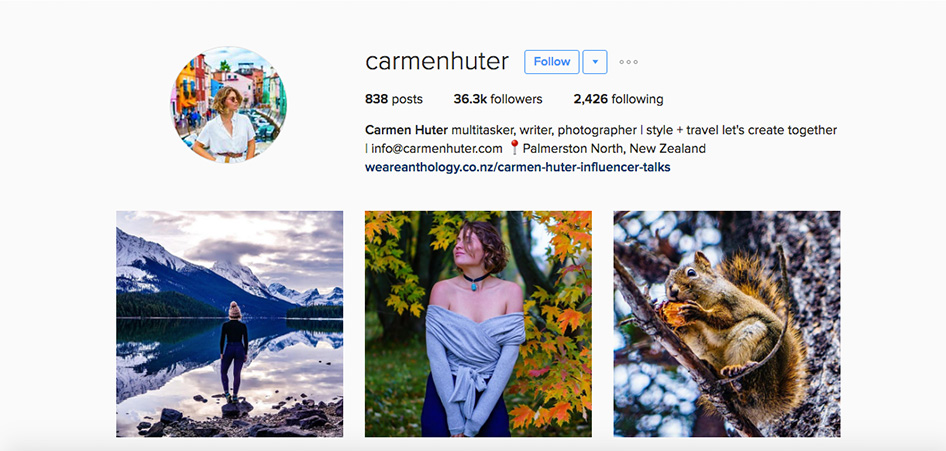 A personal style and travel blogger, Carmen Huter's mission is to never stop exploring. This ensures that she lays out the striking shots of architecture, landscape, adventure, wildlife or even of simplest of walks in eye-catchy style. From colourful rainbows, to white snow-capped mountains, to golden-hued waters, to the setting sun, to greens of the wild and multi colours of Copenhagen; colours, from both the places and the ensembles, are the most striking feature of her handle. Her love affair with travel and fashion is sure to have you fall in love with her.