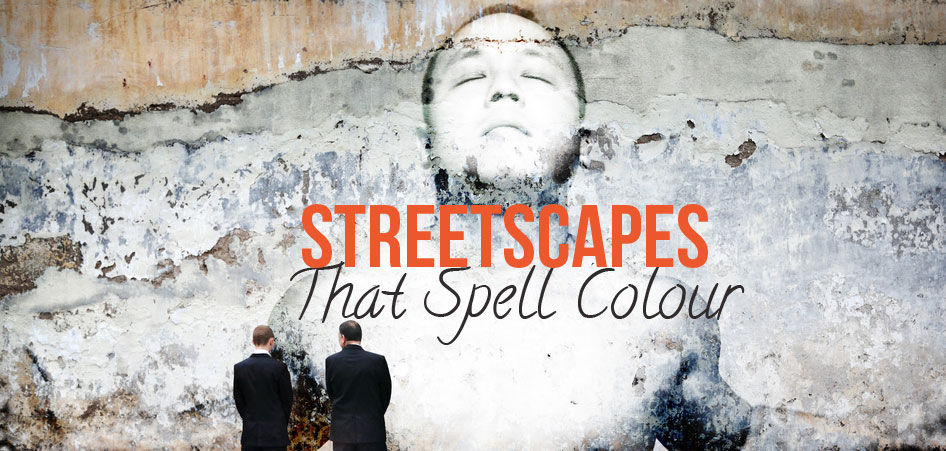 Each traveller has a different reason to travel and to choose a certain destination. Some may prefer beaches, while some yearn to dive into the history of a particular region. Then there are those on the lookout for any exciting adventure and still more wish to immerse themselves into the art culture of the world. So we decided to humour our art lovers and list out some interesting street art that has adorned, revamped and weaved magic into old walls that stand in quaint streets and neighbourhoods of cities around the globe.

Venture beyond the usual sightseeing and discover the untold stories through a distinct form of self expression...mural art and graffiti art.
1. Penang, Malaysia

Image Credit: R.M. Nunes / Shutterstock.com
One of the most famed destinations to admire wall art is Penang, where the old walls of this quaint town are revived with life-like murals. The project to revive the walls of this sleepy town was commissioned by the Penang Municipal Council. Lithuanian artist, Ernest Zacharevic was appointed along with other artists to change the look of this UNESCO Heritage Site.

Stroll along the Armenian Street, Cannon Street and Ah Quee Street, to view murals such as 'Little Children on a Bicycle', 'Little Boy with Pet Dinosaur' and 'Boy on a Bike', which illustrate the artist's vivid imagination.

2. Sydney, Australia

Image Credit: CoolR / Shutterstock.com
What began as an amateur craze has now become an approved art form which has gotten the budding local as well international artists busy working their way with spray cans. Witness the artistic graffiti art at the promenade of Bondi Beach in Sydney, which has been a playground for artists for a while now, to create colour oozing art pieces.
Although graffiti is illegal in the country, this art is now encouraged with permission from the City Council while also adhering to set guidelines.
After enjoying the waves, sand and sun, do remember to stroll by this flamboyant promenade to admire the artistic walls that depict the country's history, moral messages and more.

3. San Diego, United States America

Image Credit: meunierd / Shutterstock.com
A mural mixed with design, social message and vibrant colours is something you will find in almost all streets and back lanes of San Diego.

Explore the streetscape of San Diego, which glows in the glory of great artwork by well-known artists such as Lori Escalera, Trek Thunder Kelly, Os Gemeos, to name a few.

Checkout Italian-themed murals along the streets of the lively neighbourhood of Little Italy, stroll randomly along the streets of North Park (area) to see the utility boxes enlivened with graffiti art or simply head to Fern Street in South Park to admire some innovative murals. Old Town San Diego State Historic Park and the numerous back alleys too display some of this free expression art.

4. Krakow, Poland

Image Credit: De Visu / Shutterstock.com
The street art scene of Krakow has been thriving since late 2011, when the 'Mall Wall Art' competition took place in the city for the first time. This initiative has led to numerous murals adorning the walls of the Old Town, Kazimierz and Nowa Huta that are created by Polish as well international artists. A must-see mural is the one, which bagged the prize at the competition and is now one of the largest murals in Europe. It is by the artist Justyna Posiecz-Polkowska, who was connected to the Gdańsk Mural School.
Take the Krakow Street Art Route and lose yourself in the open-air street art gallery of the city.

5. San Francisco, United States

Image Credit: Julien Hautcoeur / Shutterstock.com
San Francisco is blessed with fabulous weather, ample of attractions, lip-smacking food, a great nightlife, among other things. What also adds to this interesting bouquet is the amazing street art, which has grabbed the eyeballs of one and all, including artists, over the last few years. San Francisco's Mission District is home to several Latino art and cultural institutes and hence this vibrant neighbourhood flourishes with beautiful wall murals, art galleries and several other types of art installations.

Checkout the vibrant 'Women's Building MaestraPeace Mural', the recently restored 'Carnaval Mural' along with the prominent murals of the 'Clarion Alley' and 'Balmy Alley', which are some must-see wall arts spread across the impressive outdoor gallery of Mission District.
6. Quebec City, Canada

Image Credit: serkan senturk / Shutterstock.com
Quebec city's old-world charm is further enhanced with dozens of beautiful frescoes that are dedicated to political history, architecture of Old Quebec and also to historic and celebrated personalities.

The reason the city has been popular for its frescoes is because of the three-dimensional illusion that these murals create.

One of the finest examples of this is the 'Fresque des Québécois' on Côte de la Montagne in which one can see 15 historic personalities along with popular writers and artists. Get a glimpse into the life of the working-class waterfront neighbourhood of Quebec City while admiring the Fresque du Petit-Champlain mural. Also see other noteworthy murals along the streets of Beauport, Cap-Rouge, the Côte-de-Beaupré region, Wendake (Village des Hurons), and Lévis.

7. Rekjavik, Iceland

Image Credit: Nokuro / Shutterstock.com
One of the best ways to experience Rekjavik is by soaking in the quirky artistic vibe as you stroll along the animated streets of the city. Owing to the relaxed laws this colourful art of graffiti has flourished generously throughout the city.

'Wall Poetry' is one-of-a-kind project, which was completed in 2015 by a bunch of musicians and street artists. Stroll along the transformed streets that are a result of the exchange of art between the two creative genres and culture.

Take a self-guided walking tour of the Wall Poetry to experience the creative spirit well-showcased through art along the winding streets of Rekjavik.
8. Berlin, Germany

Image Credit: Ppictures / Shutterstock.com
Visit the East Side Gallery, which is the world's largest open air art gallery and also an international memorial for freedom. This open-air gallery was painted by 118 artists from 21 countries after the Berlin Wall was broken down. This former section of Berlin Wall is painted with more than 100 paintings along the 1.3 km stretch.

Stroll along the wall to view the various paintings that showcase the political events, celebration of the fall of the wall, reunification, and peace. 'The Mortal Kiss', 'Birgit Kinder's Trabi, 'Flood of Faces of People', 'Mauerspringer', are some of the notable paintings.

The gallery was damaged due to vandalism, pollution and weather conditions and was restored in 2009.

9. Sao Paulo Brazil

Image Credit: EQRoy / Shutterstock.com
The art that emerged in the 80's has covered almost every nook and corner of the city with an impressive galore of graffiti art.

Today Sao Paulo's streets and barrios (neighbourhood) flaunt cool graffiti art sketched by renowned artists such as Os Gêmeos (identical twins), Herbert Baglione, Rimon Guimarães, Daniel Melim, Nunca, and others.
Beco do Batman is the location where this art first emerged and since then the street has been overhauled as a distinct cultural space. Take a guided tour on foot or on bike to explore some of the best streets and neighbourhoods such as Vila Madalena, Vila Santana, Pinheiros, and Jardim Paulista. These expressive façades of buildings and walls teem with this bohemian art.

10. Prague, Czech Republic

Image Credit: Grisha Bruev / Shutterstock.com
During the communist regime in the 1980's, aerosol cans were used to spray one's heart out and the traces can be viewed at the famous Lennon Wall near the French Embassy in Mala Strana. This famed wall is dedicated to 'John Lennon', popularly known as the man who voiced his opinion and fought for equality and peace for everyone.

Many young activists sprayed the wall with their grievances with graffiti and lyrics from Beatles' songs. The wall has been whitewashed several times over the past years but graffiti has successfully been scrawled on it again with poems, messages and images.

Although, John Lennon Peace Wall is very well known for its graffiti art around the world, the city has many other neighbourhoods such as Karlín, Libeň or Holešovice that boast of colourful streets displaying this alternative form of art.

11. Lisbon, Portugal


Image Credit: PhilDarby / Shutterstock.com
Local depictions and a dash of international handiwork make the graffiti scene of Lisbon worth the glimpse.
View the virtually singing façades in the neighbourhood of Mouraria and Alfama that portray the Fado music genre. Certainly see the curatorial collection on the Graça Literary Walk where you can view works by artists of the EBANOCollective, an ethnography-based art nomad organisation. Also, admire the large murals decorating the walls of Jardim do Tabaco and the life-size portraits between downtown Baixa and Belém.

Take a guided tour to gain thorough insights on the city's urban art form and the artists behind these masterpieces.
12. London, United Kingdom

Image Credit: AC Manley / Shutterstock.com
In London, you will come across some interesting and intriguing street art works that is sure to leave you awestruck.

The most-renowned works of the famous controversial graffiti artist 'Bansky' has drawn attention of millions. His work, using a single technique, revolves around topics such as politics, social norms, economic disparities, etc.
Take a guided walking tour of the trendy street of Shoreditch in East End of London, catch the street art fever of Brick Lane and witness the changing faces of the streets of Camden Town and other neighbourhoods such as Brixton and South Bank.

13. New York, United States of America

Image Credit: Leonard Zhukovsky / Shutterstock.com
Some call it the 'Mecca', while some call it the 'cradle', New York's streets and boroughs are known for its share of this new-age art form. These urban canvasses have been the playground for artists from as early as the 1970s and it continues to thrive further.

Catch up on this alternative art and learn about some of the legendary artists such as Zephyr (Andrew Witten), Kenny Scharf, Daze (Chris Allis), George Lee Quiñones, along with other emerging ones. Set out on a self-guided tour to explore the vivid outdoor galleries such as 'Bronx Wall of Fame', 'Bushwick Collective', 'Bowery Graffiti Wall', to name a few.
Big Apple will definitely spoil you for choice!
14. Paris, France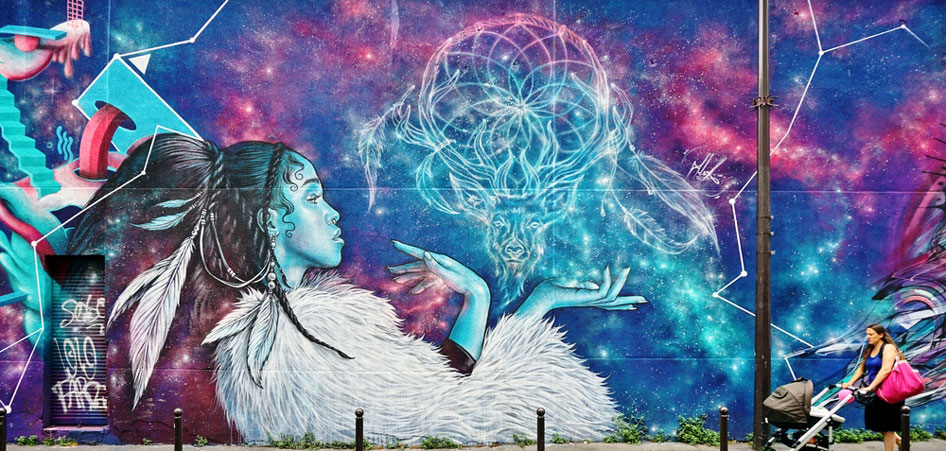 Image Credit: EQRoy / Shutterstock.com
The capital city of France is world-renowned as the melting pot of art, culture, fashion, and its delectable cuisine. The most romantic city in the world is popularly known for its contemporary, modern art and is also a blossoming one for street art and graffiti culture.

The streetscape here is best explored on a guided tour offered by many tour operators who take you through the popular streets and neighbourhoods of Montmarte, Left Bank, Belleville, Oberkampf, and Ménilmontant. Gain interesting insights on the political and social events, which gave rise to this form of art from your tour guide.
15. Buenos Aires, Argentina

Image Credit: sunsinger / Shutterstock.com
Take a trip down the lanes of the capital city of Argentina, Buenos Aires, which is underlined with a variety of street art styles such as murals, painted figures, graffiti art, stencil art, and more.

One of the best cities in the world to see graffiti art, Buenos Aires has earned this reputation owing to this colourful, witty and provocative form of art, which is well-embraced by authorities, locals, art lovers, and discerning visitors.

Take a guided group tour or a private one to explore this fascinating art form that changed the face of the streets in Buenos Aires. Stroll in the quaint barrios (neighbourhood) of Villa Crespo, Palermo Soho, Colegiales, Chacarita, La Boca and Barracas.
Those who wish to try a hand at this art style may join a workshop and learn how to use aerosol sprays.

If this motley of destinations has lured you enough, then be sure to tick them off your bucket-list on your next trip. Do remember to take that perfect selfie with all the artsy streets in the backdrop.