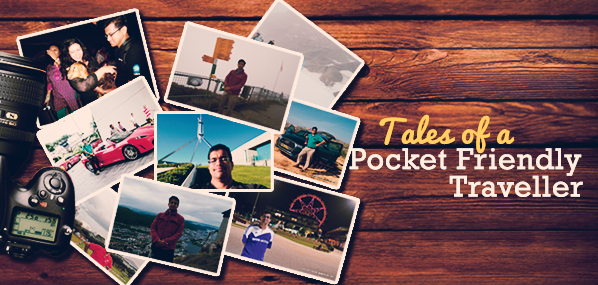 A thirst for wanderlust, a love for adventure, road trips and automobiles are what drove him to pursue his hobby and passion—blogging. Since 2006, he embarked on this personal journey and has been documenting his travel experiences through his many trips to over 17 countries. TraveLibro speaks to Shrinidhi Hande, the Chennai based IT professional and popular travel blogger, who shares about his experiences so far.
How did you begin your journey as a travel blogger?
Though I started blogging in 2006, in the initial year or two I was directionless. I wrote on random reviews, analysis, etc. without specific focus on any niche segment. Once, I wrote a detailed analysis about a leading timeshare company, highlighting various drawbacks in their scheme; this post turned out be very popular and got me loads of attention. Eventually, I realised that I could do better justice to my readers if I focus on one or two key themes. Hence, I started focussing on travel and automobiles, started capturing my experiences, observations and analysis and there's been no looking back since.
Do tell us what kind of traveller are you?
I am mostly a budget traveller and love road trips and adventures
Share something about your travels so far...for instance, your favourite destination, any interesting cultural experiences, bizarre cuisines you tasted, etc.
It's difficult to cite my favourite destinations as each country is unique in its own way and is worth experiencing. Of all the places I've been to, Australia, Norway and Switzerland have been quite mesmerising. Being a part of Europeade 2015 at Helsingborg, Sweden last year was a great experience. I am not much of a foodie and usually stick to basic vegetarian food. However, tender coconut excites me and I was surprised to see how tender coconut is scooped out in Melaka, Malaysia. They call it 'snowball' and scoop out the liquid along with its meat in an extremely meticulous way.
Do tell us which is your favourite country and why?
It is hard to name one, yet, if I have to, I would say Norway, because of extremely beautiful terrain, mountains and lakes.
Is there any city, place, region, which you felt you could make your home and why?
It always feels good to come back home; however, if I have to choose one country I would probably pick Denmark or Australia. Both nations offered great hospitality and I liked the people, cities and the overall experience.
The most vibrant/spectacular region you have travelled to...
Bergen, Norway; the scenery from the aircraft was mesmerising.
The most hospitable destination you've come across...
Thailand, when we did a one-week expedition biking in northern Thailand, the hospitality we received was great. Hotels would keep a dedicated parking space for bikes, many people would wave at us on the streets, and others suing the road were very accommodative of bikers. Overall, the Thailand countryside experience was very memorable.
One country you would term as a country of food lovers?
Thailand.
Share two funny instances while travelling?
First is, lost in Kaunas - When I visited Kaunas, Lithuania, I visited the Ninth Fort, a monument , which is about 7 km away from the city. I got dropped off in a taxi and for my return trip there was not a single taxi available. I did try asking for a lift, however, could not get one. This place is away from the city, so there's no public transport available and I didn't even have a working phone/internet connection. However, the GPS on my mobile phone displayed my location on Google maps. Using this, I started walking in the direction of the city as a last resort. After walking for two km I came across a city bus, which would take me to the city centre.
The second incident was with a friend who had a very long name (Thirugnanmoorthy Krishnamoorthy). A German bus driver had difficulty noting these names in his trip sheet, so he simply said he would use 'Mr India' instead.
Tell us about any strange or unexpected experiences you've had?
It was in Geneva, Switzerland, where I reached the town by midnight and thought of taking a walk. As I stepped out, I encountered many groups of drunken youngsters and prostitutes on the street and overall it was a very uncomfortable ambiance. I didn't feel very safe, walked back to the railway station and slept in the waiting room till early morning. I wasn't expecting this at Switzerland.
Share some most memorable/heart touching moments during your travels.
There was an incident when I witnessed a helicopter rescue of an injured tourist at Jungfraujoch, Switzerland. Then, there was another where the Emirates crew gave me their crew meal after they realised that they had exhausted all vegetarian meals. There was also a heart-wrenching experience when a family breaking down at a war memorial in Kaunas, Lithuania in memory of their family members who had perished in the World War.
Your favourite shopping destination...
Thailand and Malaysia.

The next destination on your bucket list...
Macau, Manila and Japan.

The best and worst part of being a travel blogger...
The best part is when you get an opportunity of being someone else's eye when you visit a new destination. Many readers who can't afford to go to a particular destination due to time, money, health or other reasons feel satisfied that they could experience it through my posts and pictures. The appreciation from real readers is very satisfying and makes the travel worth all the trouble.
The worst is when ideally, one should simply soak themselves in the destination, indulge in the experience and spend time understanding the local culture and traditions. Yet, we are also required to bring back memories to our readers; thus, loads of time and effort is involved in getting a good photograph, trying to make a decent video, and so on. At times the trade-off is an extremely difficult decision to make.
One of your favourite travel quotes...
"The real voyage of discovery consists not in seeking new landscapes, but in having new eyes." - Marcel Proust.
You can follow Shrinidhi's travels on his blog and his tales and trails on his TraveLibro profile.