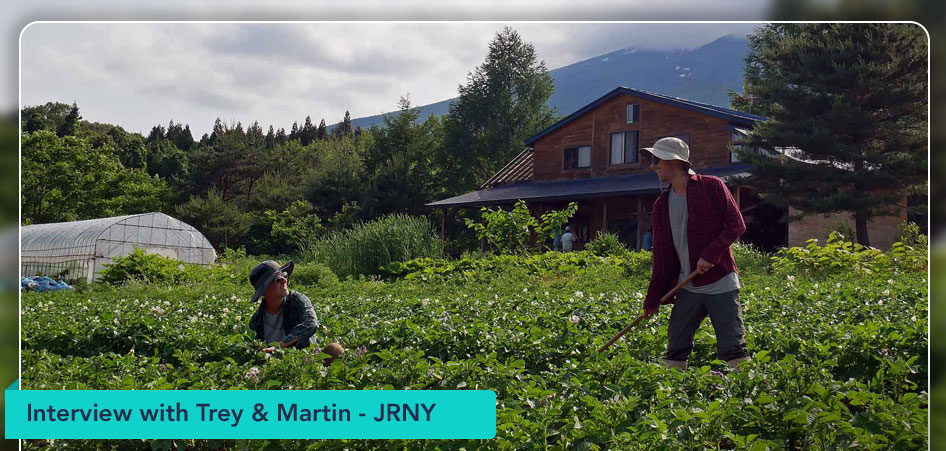 One a communications specialist, the other an advertising strategist meet in New York, almost instantly hit it off and soon realise they wanted to escape from the chaotic city life and retreat to a quiet place. That's when Trey and Martin took their first holiday together for Thanksgiving, breaking away from tradition to the natural haven of Vermont. However, in their own words, it was a life-altering trip to Kenya with WE.org that made them realise the importance of their love for varied cultures and places. And, since then, they have been travelling together and blogging about their experiences. Read on to know more about this fun couple travelling the world.
1. Give a brief bio of Trey and Martin as individuals
Hi everyone! We are Martin and Trey, both Americans originally from the Southern states—Martin the Kentucky Bourbon to Trey's Tennessee Whiskey. We found each other, however, four and a half years ago in the concrete jungle of New York City. At the time, Martin was working in advertising strategy at a large media agency and Trey worked in communications for a global hotel company.
2. A little about your first trip together...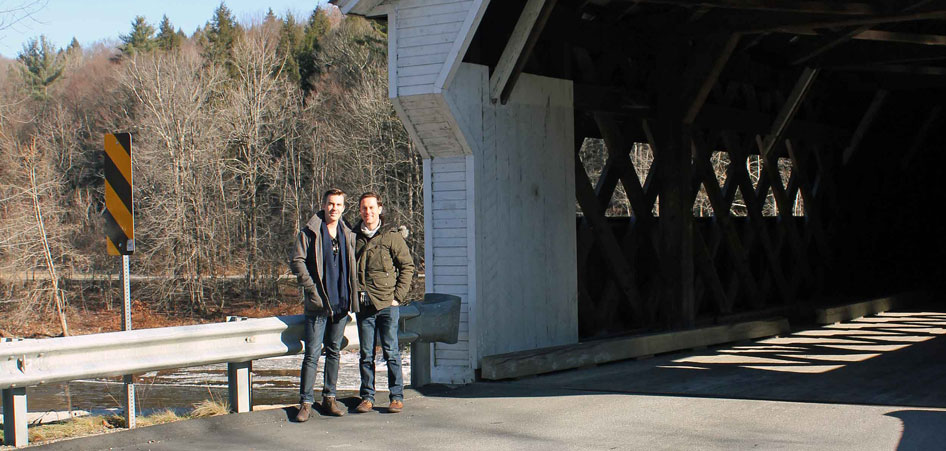 Not too long after we began dating, we travelled with friends for a group getaway, but it wasn't until Thanksgiving of our first year together that we took our first trip as a couple. Exhausted from the busyness of life and work in New York, we decided to forgo the traditional family gatherings and spend the holiday at an Airbnb in Vermont. We both knew that all the alone time together in a cabin in the woods would be a big test for our relationship and fortunately, we ended up having so much fun together that week, shopping the local markets for harvest produce, cooking big meals in the kitchen, and reading by the fire at night. During long conversations walking in the woods or sitting at the table, we bonded over our life experiences, our likes and dislikes, and the tics and quirks that make us who we are.
For instance, I (Martin) quickly discovered Trey's perfectionist, 'Type A'" side as I was rushing around the kitchen preparing the grand Thanksgiving feast, while Trey was diligently slicing fresh cranberries to make the perfect sauce. I politely suggested that Trey might want to move out of the way so that dinner could finish up, not so subtly implying that a certain much-loved side dish wasn't exactly worth all the counter space and meticulous attention. But once I tasted that delicious sweet-and-sour, citrus and spice creation, I immediately recognised that all of Trey's painstaking chopping and preparing was totally worth it! (Right?!)
3. Tell us how you kick-started your journey as travel bloggers?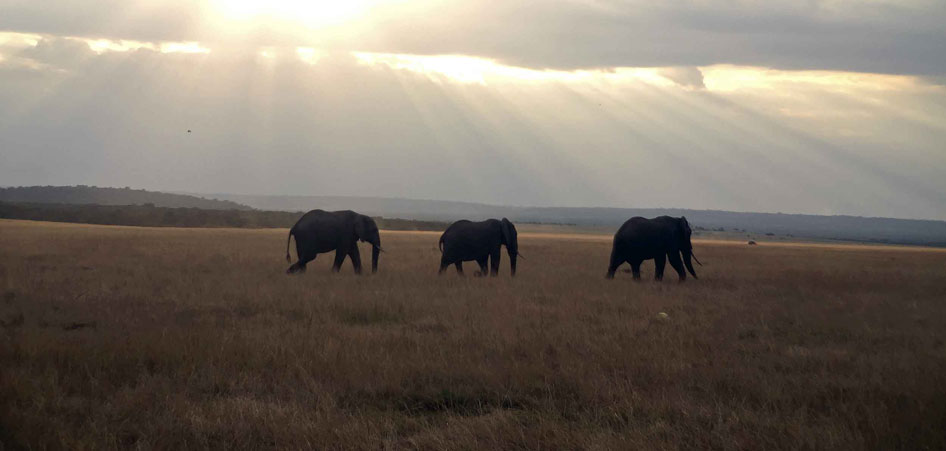 In 2016, Trey's company was to be acquired by a competitor and this forthcoming change caused us to step back and consider the path of our life together so far and where we'd like to go in the future. That summer, just as we began discussing options, we took an incredible, life-altering trip to Kenya with WE.org (thanks to a longstanding partnership through Martin's agency), and we realised that the energy and passion we had for discovering new places and cultures was integral to living the life we wanted to enjoy. Soon after, it became clear that this option could actually become a reality and on December 31, 2016, we left our Manhattan apartment for the very last time—backpacks strapped on tight and bloated boxes of belongings in storage—to begin this journey of a lifetime. As we were preparing for a year abroad, we wanted to be able to keep friends and family up-to-date on our trip and to share photos and insights from our travels as we moved from country to country. From our previous experiences travelling, we knew how tough it would be to regularly keep in touch with our loved ones back home and so we created JRNY.life; we use the blog and its connected social channels as platforms for staying in touch.
4. What are your travel plans for the next one year?
When we boarded that airplane on New Year's Eve, we perhaps headed as far away from New York City as any place on Earth—New Zealand, where we spent the next three weeks travelling in a campervan around the South Island. We moved on to Australia to catch up with friends and take in the majesty of the Barrier Reef and then our journey took a turn towards the north as we explored Southeast Asia, from Myanmar to Vietnam and Indonesia with many countries in-between. After five months, we headed north yet again for Hong Kong, Japan and South Korea, before leaving from Beijing to catch summer in Europe. On the Old Continent, we've toured the Balkans and several Central European countries and also found stillness in places like Italy, Greece, France, and now Spain. In a few short weeks, we'll head back east to Nepal, where we'll hike the Himalayas and round out our year with some quality time exploring the vastness and diversity of India and nearby Sri Lanka.
5. Share with us your farming experiences from around the world.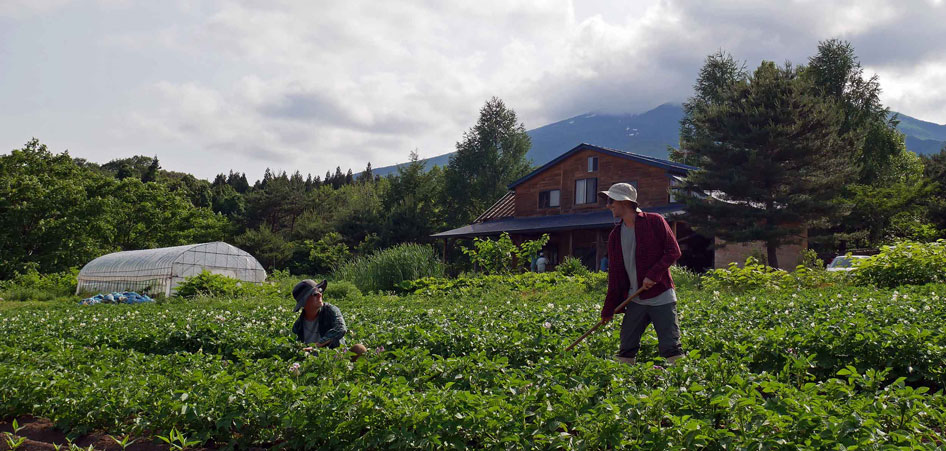 Our first WWOOFing (World Wide Opportunities on Organic Farms) experience together was on a Japanese farm located in the north of the main island. While in his 20s, Martin WWOOFed around the world, volunteering on farms from Canada to Hawaii, Norway to Greece, some 20 different destinations across two years. But Trey hadn't had his hands in the dirt since childhood when he helped out around his grandparents' farms during the humid and hot Southern summers. As we planned for this trip, we were both greatly interested in not only better understanding Japanese farming but also diving deeper into their fascinating culture at home. So, in mid-June, we arrived at Shiratori Family Farm, a full-scale organic vegetable CSA (Community Supported Agriculture) in the shadows of towering Mt Iwaki. Our gracious hosts taught us many things in the short time we had together; however, the greatest takeaway from working on this rural farm was the deeper appreciation we now have for the tireless effort of organic farmers who labour to help make a healthier food system for our communities.
If you're considering taking a working holiday through an organisation like WWOOF or Help Exchange (another similar organisation, not primarily focused on organic agriculture), here are a couple of quick tips (we write about the experience on our blog, if you'd like to read more):
Be clear with the farmer – Before you arrive, set expectations with the farm hosts by clarifying everything from the types of work anticipated, accommodation during your stay and even the types of meals you will receive in exchange for your labour. Doing so early will help avoid any issues or potential frustrations you might have once you arrive.
It can be tough and repetitive work – Be realistic; these are working farms with genuine needs, which at times can be physically challenging (chopping and stacking wood) or repetitive (weeding). Be prepared to get your hands in the dirt and work hard during your shifts.
We found that a working holiday can be so very rewarding by taking you deeper into a culture, helping stretch the budget for longer periods of travel and surely, leaving you with a greater appreciation for what you consume every day.
6. Best food/cuisine according to you'll...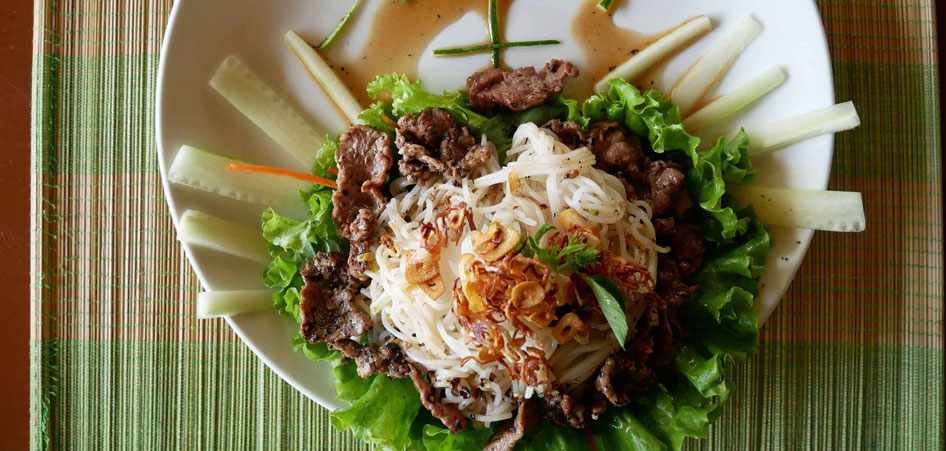 On this journey, we have been fortunate to try some of the world's best cuisines, from melt-in-your-mouth sushi in Japan to piping hot Malaysian laksa, big bowls of pasta in Italy to just out-of-the-oven breads and creamy cheeses in France. But out of all these delectable dishes, we have fallen for the simple yet complex flavours of Vietnamese cuisine. In our weeks-long sojourn from Ho Chi Minh to Hanoi, we slurped down the country's famous beef noodle soup—phở, grabbed savoury banh mi sandwiches on the go, gorged on all kinds of pancakes, spring rolls and skewers from street corners and hawker stalls, all the while observing the subtle changes in flavours and spices as we moved farther north. We loved the cuisine here so much that we joined two different Vietnamese cooking classes to learn how to make the irresistible noodle soups as well as various rolls, crepes and salads.
7. Share your most memorable/heart touching moments during your travel?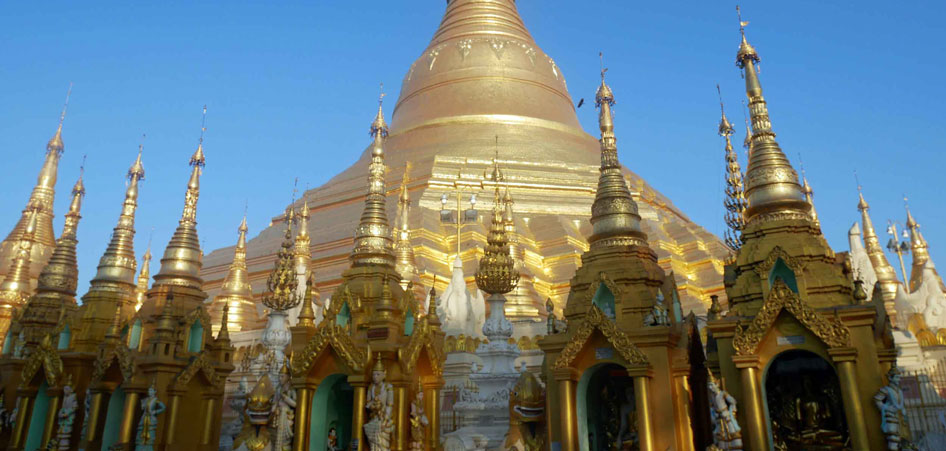 One of our most sacred moments occurred early on in our journey when we rose well before dawn to visit Shwedagon Pagoda, Yangon's famous gilded stupa that stretches some 99 metres into the sky. While most guidebooks and locals recommended arriving at sunrise, we were fortunate to enter the holy grounds in the pre-dawn hour when only locals were streaming in to make their daily offerings and prayers. As we strolled around the massive lit-up pagoda underneath the still dark sky and shimmering stars above, we breathed in the sweet smells of incense and flower blossoms wafting through the air as we listened to the voices of a young choir mixing in harmony with the chants of individual monks scattered across the complex of alters and shrines. We were the only Westerners there during those early morning rituals and the kind and gentle Burmese were so welcoming and generous. As the sun began to peek over the horizon, the sky wasn't the only thing changing colour—the magnificent, bright gold stupa began to soften with subtle hues of pinks and oranges. We left full of gratitude for the overwhelming, heart-stirring experience as we reflected on the pain and suffering the resilient Burmese people have overcome in recent years and continue to face even today.
8. Three visuals that sum up your journeys around the world.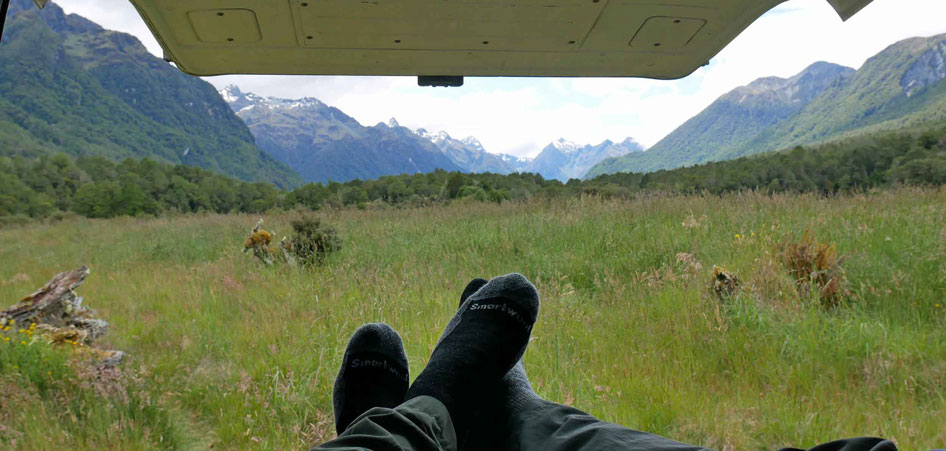 NEW ZEALAND – Our 'Lucky Ranger' campervan carried us around New Zealand as we began to settle into the nomadic life of our yearlong journey.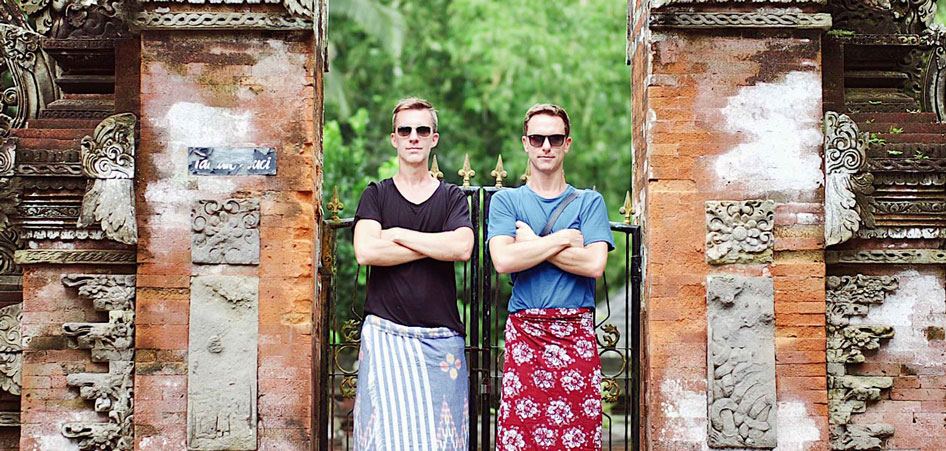 BALI – Our time in Southeast Asia and especially Bali, was healing and spiritual as we aimed to understand the rich culture and deep traditions.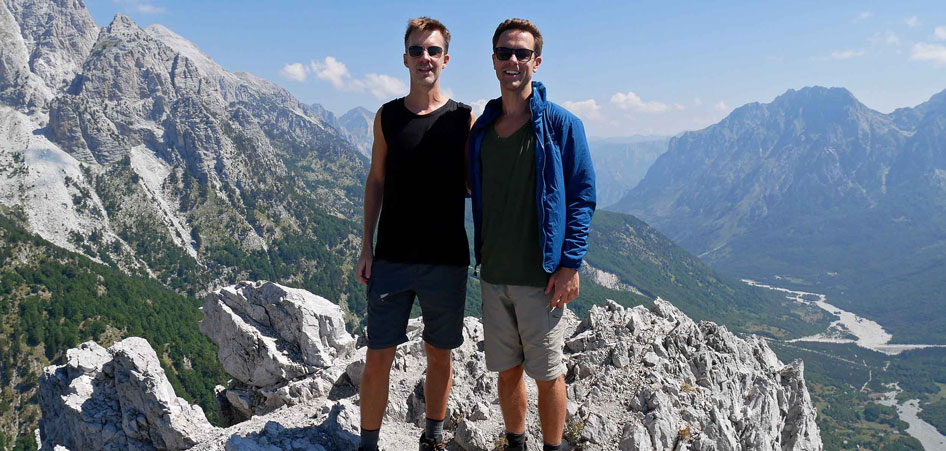 ALBANIA – We will always remember our treks, which not only challenge us physically but allow us to explore both nature's splendour and ourselves.
9. Five travel-essentials that you'll never forget to carry?
MULTI-USB CHARGER – This has come in handy so many times when at the end of a day of travel there has been only one functioning outlet and all our devices are dead.
KINDLE – Don't get us wrong, we love to hold a real book. But being on the road for a year, it's just not practical to carry around volumes of guidebooks, novels and other tomes.
VICTORINOX SWISS ARMY KNIFE – Literally a lifesaver on so many occasions when we've needed to pop something open, slice through a package or just spread a little peanut butter on toast—and it fits right in your pocket.
iPHONE LOADED WITH FAVOURITE APPS: Ah, technology...where would we be without our iPhones, which allow for such a different travel experience nowadays from when Martin backpacked nearly a decade ago. We love helpful travel apps like Rome2Rio, Google Flight, Airbnb, and of course, Twitter, so we don't miss a thing.
PANASONIC LUMIX MIRRORLESS CAMERA: It performs like a Digital SLR but is half the weight and bulk, a fantastic way to capture memories on the go.
10. Share with us your favourite travel quote.
We spotted this quote early on as we were about to begin our trek across the Burmese hills to Inle Lake and it has stuck with us through this entire journey: "To travel is to feed the mind, humanise the soul and rub off the rust of circumstance." - Thomas Cook
About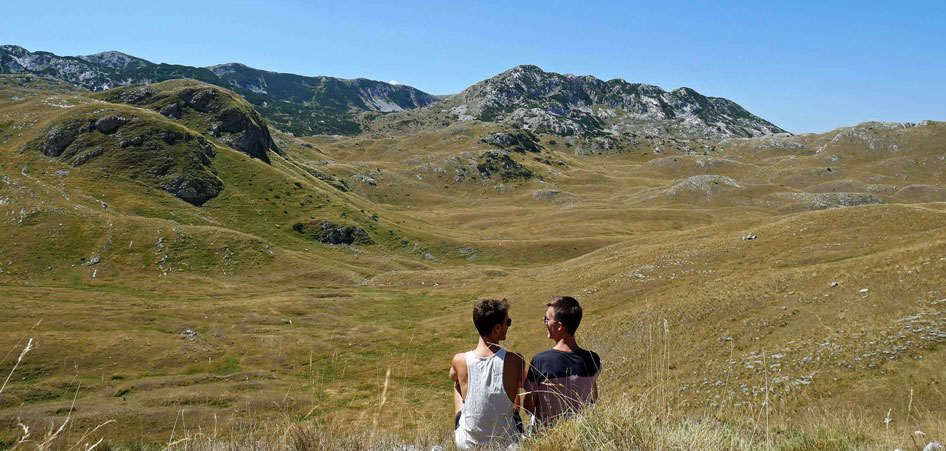 Their love for travel takes them places strengthening their bond but more importantly, it's their curiosity to delve into the cultures of the world that drives them to learn from its differences. Trey and Martin, couple travel bloggers believe that "food and farming bring people together and heal the soul." So, they go about the globe exploring, discovering and forming more bonds along.