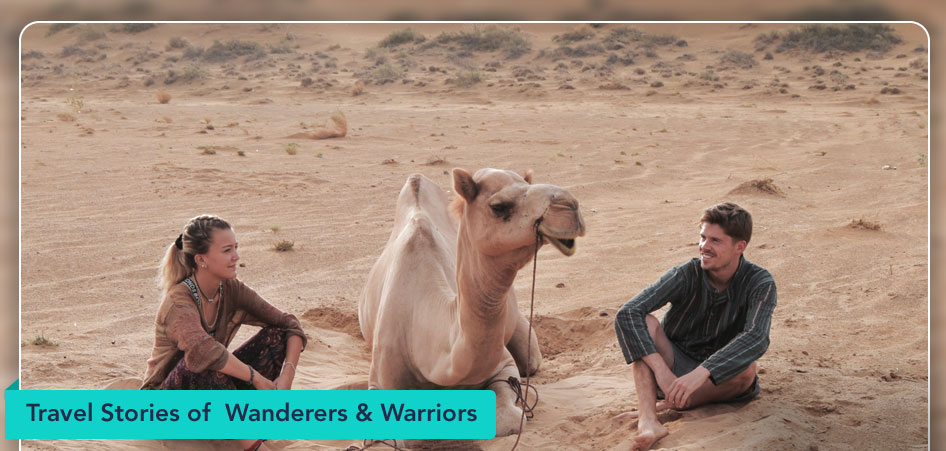 They love their little corner on the World Wide Web and love posting pictures and uploading videos of their travels. Both Charlie and Lauren of Wanderers & Warriors decided to travel around the world when they realised their thirst for wanderlust. Check out their adventures and travel stories here...
1. Give a brief bio of Charlie and Lauren as individuals
Hey guys, we're Charlie & Lauren, a free-spirited couple originally from the UK. After growing up in a small town, we soon came to realise that we were not made to stay in one place, we were made to wander. So now, we combine our sense of humour, love of travel and passion for life to explore the world. As well as making cool videos and taking sweet photos, we also try to educate ourselves and learn from the different cultures and people we meet along the way—so it's not all sunsets and waterfalls!
In a nutshell we'd say we're a small team with big dreams on a constant pursuit of happiness.

2. Tell us about your first trip together?

Ok, so our first trip together was India (we know, talk about jumping in at the deep end) and it was crazy to say the least. We'd both done a lot of solo travelling prior to meeting each other and wanted our first stop to be a new place that neither of us had visited before. We'd been living together for just over seven months; so adapting to each other's everyday habits wasn't an issue but adapting to the Indian culture was a challenge. We spent a total of two months exploring India and minus a few bad stomachs and buses not turning up, it was pretty successful.

3. What would you be doing (professionally) if not globetrotting?
The name Wanderers & Warriors actually originates from our travel clothing brand that we owned back in the UK. We ran it for just over a year until it was time to eventually get up and travel again ourselves; so that's when we closed the online store and turned the website into a blog. Needless to say, if we weren't travelling the world full time, all of our efforts would go into setting up the store again. This time branching out further and taking it to pop up stalls and markets around the world.
4. What type of travellers would you classify yourselves as?
A few of our friends have joked about us 'selling out' to the big hotel chains lately. We've worked with many beautiful hotels and resorts all across Asia and have thoroughly enjoyed being pampered and personally looked after; although we're definitely budget backpackers at heart. It's a breath of fresh air when you get back on the road with nowhere to go and we are always careful with money and try to find the best budget accommodation we can. There's nothing better than winging it and ending up at a little family run guesthouse eating traditional home made food with the locals. Those are the reasons we travel.

5. Name five goals from your bucket-list you wish to tick off in the next one year.
Well we're on a big trip through Southeast Asia after Sri Lanka so everything from eating Pho in Vietnam to volunteering at orphanages in Cambodia should all get a big tick. If we can make it through to the Philippines and go diving that will be a huge one off the list and obviously surfing in Bali. Who knows, maybe we'll even make it to New York for Christmas at the end of 2018…that would be a dream come true!
6. Which two cities according to you'll offer the best combination of cultural and gastronomic experiences in Sri Lanka?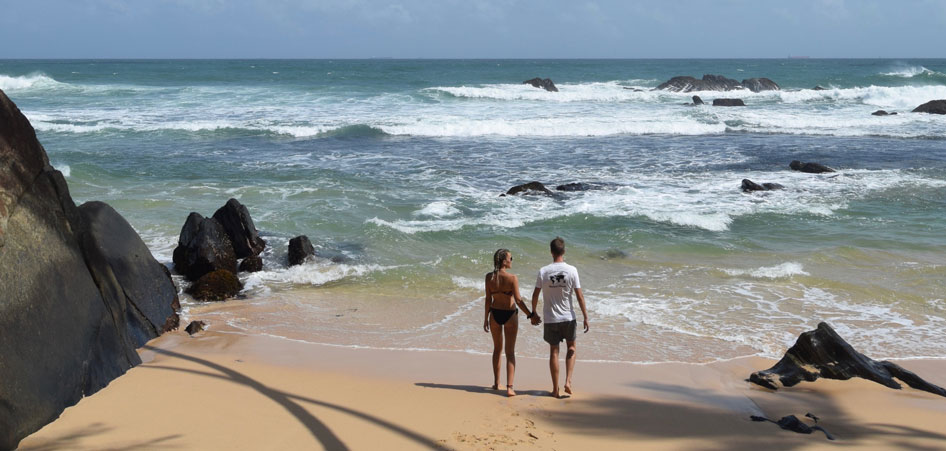 Dambulla in the centre or Unawatuna on the South Coast; if you want hearty traditional home made food then right in the centre of the island, just next door to the famous Sigirya Rock, lay many 'old school' Sri Lankan restaurants in Dambulla. If you're more into trying the local seafood or traditional rice and curry, then anywhere along the South Coast is amazing but Unawatuna is a must-visit.
7. Tell us about your favourite travel memory.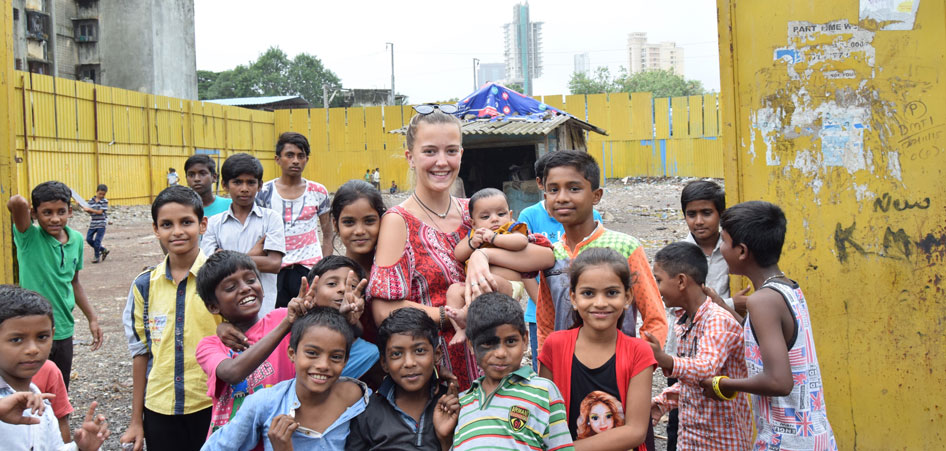 Wow, this is a hard one. It would probably have to be the slums in Mumbai. We chose to visit the local slum of Dharavi (the biggest in Asia) alone, without a tour guide. At first it's fair to say it was a little intimidating but once we made it through the tiny passages and confused looks, we entered a whole world of smiles and hugs in the centre. Children were playing and parents were beaming with excitement. The contrast of it being so uninviting from the outside to having such a warm and welcoming core was completely overwhelming. We even ended up taking shelter from the rain in a family's home and staying for dinner, which was a once-in-a-lifetime opportunity. The sense of community really touched our hearts and it'll be an unforgettable travel memory forever.

8. If you've had to settle down in any of the destinations you've visited (or are yet to visit), which one would it be and why?

We've still got a lot to explore but at the moment it would have to be New Zealand. The country on the whole is beautiful and the people are so laidback and friendly. It's like a different way of life over there. It must be something in the sunrays.

9. Can you'll share a few of your favourite travelling hacks with our readers.
Always keep a photo of your passport backed up in your emails or iCloud.

Check up on local food and transport apps…we're forever downloading and deleting apps as we pass through new countries.
Pay directly through the properties you're staying at; nearly all online booking sites add commission so the price will be significantly cheaper if you risk just turning up.
As much as we all love technology, a good old-fashioned pen and paper in the front of your bag will always come in handy.
Choose to eat locally—for costs AND great experiences. Look for the shop with the most locals in…it usually means that one...they serve good food and two...a constant turn over means fresher food.

And finally…it's not really a hack but something we've taught ourselves…if you wouldn't wear it at home don't buy it (laughs). The amount of touristy clothes we've got carried away with at the time and ended up throwing out two weeks later. Just save yourself the money.

10. Share with us your favourite travel quote

'Escape the ordinary'.
About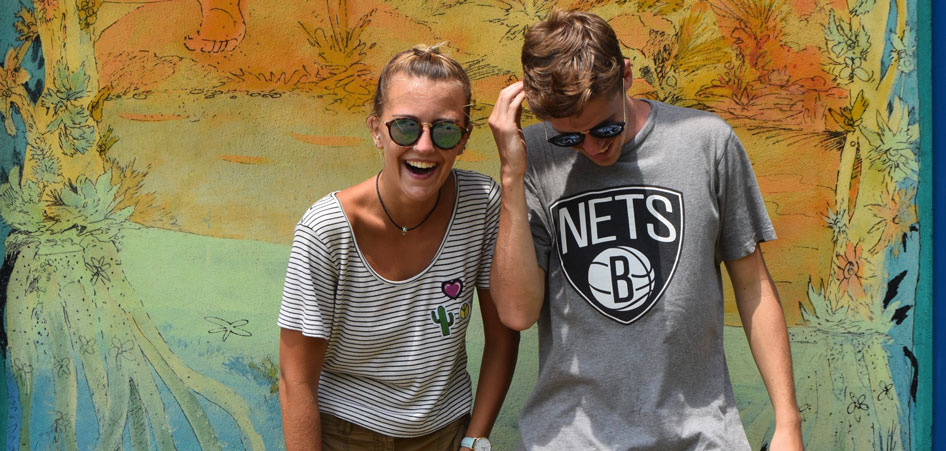 Two youngsters from a small town set off to take on the world, chasing their big dream and experiencing different cultures, meeting people and sampling delicious cuisines. This couple who loves to travel around the world combined their sense of humour, love for travel and passion for life to discover the globe.